Philippe Moranges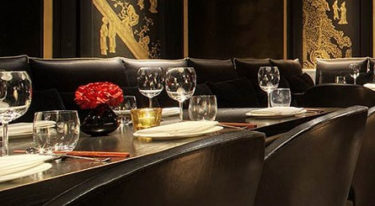 How long have you been at the restaurant?
10 years.
What attracted you to become a sommelier?
A love  for wine and food as well being in contact with people.
Where did you do your training?
I studied catering for 5 years in Bourges in Loire valley, and learned the sommelier job in Hakkasan through the company training scheme.
What would you say were the essential skills required to be a sommelier?
Passion, patience, understanding people.
What wines complement your personal favourite three course meal and why?
I prefer intense flavours. A 2011 new Zealand Sauvignon Blanc from Marlborough by Brookfields estate with salt and pepper squid, The intense fruity flavours of the wine stand the intense aromas of the  food. The fresh acidity cleans the palate as the dish is deep fried, A 2008 Shiraz "The Dead Arm", d'Arenberg from McLaren Vale, Australia with rib eye beef with black pepper and merlot sauce. The beef texture make the ripe tannins melt. The black fruit and eucalyptus flavours uplift the strong flavours of sauce. A VORS Pedro Ximenes'NOE' by Gonzales Byass with vanilla ice cream. Simple but both products complement each other so well.
What are your thoughts on the 'Red wine with red meat, white wine with white meat and fish' age-old debate?
It is true as a tannic red wine would badly clash with fish . It would leave a metallic  after taste. But if people prefer red wine with fish and they like it, then it's ultimately a matter of personal taste.
How does the choice of the right wines complement the different food courses served?
If the wine compliments the food, it makes a harmonious combination. Again, it's ultimately a matter of personal taste.
What's the best part of your job?
Food and wine matching.
And the worst?
Stock take.
What is the unusual wine that you have ever tasted and why?
An English wine called Beaulieu from new forest in Hampshire. It is reminiscent of Sauvignon blanc although with 3 grapes Reichensteiner, Muller Thurgau and Huxelrebe. It is dry, light body, with elderflower, gooseberry and cut grass flavours. The finish is very long and mineral. I would not have expected to find such a great wine in England.
What is the most money that you've ever seen spent on a single bottle?
£2,500.
How many wines do you have?
About 385.
How often do you find that customers complain about wine being corked and – in your opinion – how often do you think that they are right?
It is rare our customers complain about corked wine as we taste before giving the wine  to our guests. If we don't catch the corked flavours and the customers realise it is corked, we change without arguing. Or if it is because they simply don't like the wine, we will offer another choice.