Nicolas Clerc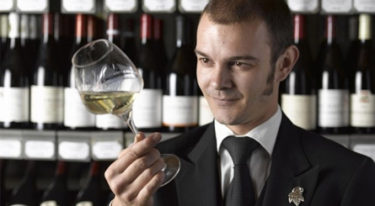 How long have you been at the restaurant?
4 and half years.
What attracted you to become a sommelier?
The theatrical approach of a service, the mise en scene and the poetical way of describing the wines.
Where did you do your training?
Carcassonne, in the Languedoc-Roussillon, France. I prepared a 2 year diploma.
What would you say were the essential skills required to be a sommelier?
To be able to listen, to be patient and most of all curious.
What wines complement your personal favourite three course meal and why?
It will depend on the context, the company and the time of the day. Very difficult to answer.
What are your thoughts on the 'Red wine with red meat, white wine with white meat and fish' age-old debate?
These are the classic  pairings, and they will always be a rule. But gastronomy is an evolving science, and part of it is the food and wine pairing. So this gave way to far more ideas, were rather than pairing you contrast, oppose the wine and the food.
How does the choice of the right wines complement the different food courses served?
This is were the highlight of the meal is, this is where your guests are able to enjoy a memorable moment, and will never forget it.
What's the best part of your job?
The people you meet, and the people you work with. Overall the human experience.
And the worst?
Not happened yet.
What is the unusual wine that you have ever tasted and why?
So far it was a Kazakh red wine, made from an obscure. It was not memorable but it was a sign of how far Viticulture has gone, constantly pushing the boundaries.
What is the most money that you've ever seen spent on a single bottle?
I do not really remember the selling price, but it had at least five numbers and it was back in my time in Australia. The wine was a Petrus 1961 and the customer had 2 bottles.
How many wines do you have?
1,200 approximately.
How often do you find that customers complain about wine being corked and – in your opinion – how often do you think that they are right?
It happens sometimes, but most of the time we spot it before the customer as we try the wine before to serve it. Customers' knowledge in wine has improved a lot in the last decade, making our jobs more and more challenging on a daily basis.