Alessandro Forte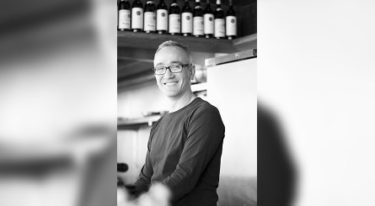 How long have you been at the restaurant?
I've been at Zucca for 5 years.
What attracted you to become a sommelier?
My passion about food allowed me to discover wine from a very young age. They are an amazing union. I was 7 when my grandad let me try a drop of a great Barolo.
Where did you do your training?
In the vineyards, in the cellars and of course at school, mostly in Italy and France.
What would you say were the essential skills required to be a sommelier?
Passion for sure and to never think that you know everything about it.  Every wine is different, it has its own peculiarities, year by year, producer by producer even hill by hill so there's always something new to learn.
What wines complement your personal favourite three course meal and why?
Pinot Noir from Bourgogne and also I enjoy a sparkling version from Champagne. The Pinot Noir is versatile and adaptable to either meat or fish courses.
What are your thoughts on the 'Red wine with red meat, white wine with white meat and fish' age-old debate?
I think it will always remain a debate. Personally, I wouldn't match a white wine with a steak but I would match a specific red wine with some fish courses.
How does the choice of the right wines complement the different food courses served?
The right wine match will complement the food which will give the best taste experience.
What's the best part of your job?
To make a customer happy with the wine suggestion I give them.
And the worst?
None.
What is the unusual wine that you have ever tasted and why?
A Georgian white wine aged 53 years. Its perfume was very unique and after all those years it still had a great freshness like a young wine.
What is the most money that you've ever seen spent on a single bottle?
I don't remember, however I think it's not necessary to spend lot of money for a great bottle of wine.
How many wines do you have?
We have 210 wines on our list, which are Italian wines only. Most of our red wines come from Piedmont; one of the best regions in the world for the production of red wines. The Italian territory offers an amazing diversity of wines and we always look for the best ones.
How often do you find that customers complain about wine being corked and – in your opinion – how often do you think that they are right?
I never serve the wine if I can smell and taste that it's corked. It has happened on very few occasions that a customer could smell it and that they were right.