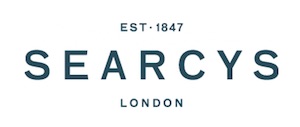 Searcys at Home – Champagne Delivery
£40+ per person
I'd like to book this restaurant:
Close
Thank you for your interest in Searcys at Home – Champagne Delivery!
Here are your booking requirements:
For more information regarding availability and prices please call
020 7101 0220
Alternatively, simply fill in your name, email address and phone number in the form below and we will call you back to confirm.
Online champagne delivery with luxury packaging & personalised message
You may be limited as to where you can go out, but Searcys cuvee rosé or brut can reach you anywhere in the country. Bringing the charm of St Pancras Champagne Bar or The Iris Bar at the Gherkin to homes, each bottle will arrive in a bespoke white and gold box, complete with a personal message.
Searcys was established by Victorian entrepreneur and the Duke of Northumberland's confectioner, John Searcy, in 1847. Catering for the Duke required a skill and artistry that few people possessed, as the high society and royalty who made up this prestigious party crowd consistently expected the best.
In 1870, John Searcy & Sons received a Royal Warrant from the Prince of Wales – a mark of recognition for the company's outstanding service. Each event they held was an intricate performance, designed to entertain and amaze guests. It is these same values for dining and entertaining that we uphold today, in an effort to be as consistently exceptional as John Searcy was.
Bruno Pelletier, Searcys Drinks Ambassador says, "For centuries, romantic occasions and celebrations have been associated with Champagne. Searcys story has been intrinsically linked with Champagne since our foundation in 1847. I am delighted to offer you our exclusive Rose and Brut champagnes, that have been developed in partnership with our chefs to be a perfect accompaniment for a meal."
Priced from £39 per bottle plus delivery, Champagne gift boxes are available to order from our online store.
Searcys Champagne Tasting Notes
Brut
Nose: Elegant, complex and fruity nose. Aromas of peach and plum with notes of citrus. Palate: Elegant and fruity with notes of toasted bread and citrus, our Searcys Selected Cuvée Champagne shows an unctuous texture on the palate balanced with a fresh, crisp finish.
Rosé
Nose: Red fruits dominated by strawberry and white flowers aromas, with dried apricot and almonds notes.
Palate: Mix of red fruits flavours with strawberry, raspberry and redcurrant. The texture is soft and creamy, followed by a long and complex finish.