Villandry – St. James's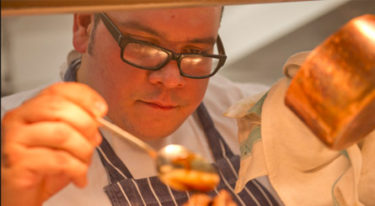 How long have you been at the restaurant?
Over 3 years.
Which was the first restaurant you worked in?
Footlights in Wimbledon. It's no longer there. It was 12 years ago.
What was the last London restaurant you went to, apart from your own?
Pollen Street Social. It was delicious!
What or who has been the biggest influence on the way you cook and why?
My year in Paris had a great impact on me and my culinary life. It was where everything I imagined about food became real and more. My latest influence are my children. I realised how important it is to feed them well and teach them that food doesn't come from a box.
What is your personal signature dish?
Dijon mustard chicken supreme with crushed potatoes, mushroom and jus.
Which other chef(s) do you most admire?
Jason Atherton, Hugh Fearnley-Whittingstall and Sumito Estevez.
What's the best part of your job?
Making people happy because of the food.
And the worst?
A lazy cook.
What would your last meal be?
Slow cooked pork belly, tostones (green plantain Venezuelan style) and a big salad with plenty of mustard dressing.
Do you have a chef's shortcut that you can share with us?
Buy the best ingredients. And then do very little with them.