Steve Groves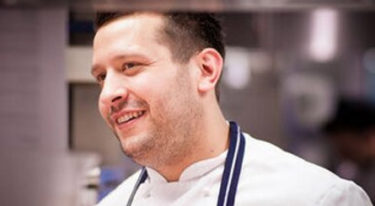 How long have you been at the restaurant?
I've been here for nearly three years now, 6 months as Head Chef having joined as Senior sous chef.
Which was the first restaurant you worked in?
I worked at a small fish restaurant called Mariners in Brightlingsea whilst I was at catering college, My first full time experience came at The Inn at Perry cabin in the States.
What was the last London restaurant you went to, apart from your own?
The Dairy in Clapham, it was really impressive, great atmosphere and great food, what more could you ask for?
What or who has been the biggest influence on the way you cook and why?
Tristan Welch had a huge influence on the way I look at cooking and produce in general, he's massively enthusiastic great ingredients cooked with respect and that's infectious.
What is your personal signature dish?
I would say my salad of pickled vegetables with montgomery cheddar and oatcake crumble is quite representative of my style.
Which other chef's do you most admire?
Obviously the Roux family are a big influence for the way they transformed the dining scene in the uk. Brett Graham's food is incredible.
What's the best part of your job?
Constantly learning and improving. Also having the scope to share my creativity.
And the worst?
Not seeing loved ones quite as much as I'd like due to the long hours! (or falling asleep in their company!!)
What would your last meal be?
A giant Plateau fruits de mer shared with friends and family.