Sasha Ziverts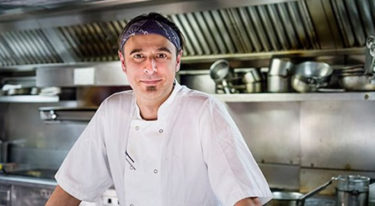 How long have you been at the restaurant?
1 year
Which was the first restaurant you worked in?
In Australia, A small Japanese restaurant called House Restaurant, In London, Cicada restaurant in Farringdon as a junior Sous chef
What was the last London restaurant you went to, apart from your own?
KUROBATA in Chelsea, Great food, Good Sake, Perfect night.
What or who has been the biggest influence on the way you cook and why?
Traveling around the world, Experiencing different cuisines and culture. Growing up in a multicultural community in Australia – it really helped tasting fantastic food from around the world on your doorstep. Collecting and reading cook books and the history surrounding cooking. Indigenous food to the area that I am living in.
What is your personal signature dish?
Not so much a dish but a cooking theory. Simple cooking, Great fresh produce, Bold flavours. To sum up in one dish – Lamb bo ssam with chilli jam, Jersey oysters and butter lettuce.
Which other chef's do you most admire?
Cheong Liew Susur Lee Tetsuya Wakada David Tompson David Chang
What's the best part of your job?
Constantly learning and evolving. Seeing other chefs that I have taught and worked with succeed in their own endeavours.
And the worst?
Finding and motivating new staff.
What would your last meal be?
A European fix of homemade Russian dumplings with sour cream, Soya sauce and chilli oil.
Do you have a chef's shortcut that you can share with us?
The right knife for the right job.