Jean-Paul Murphy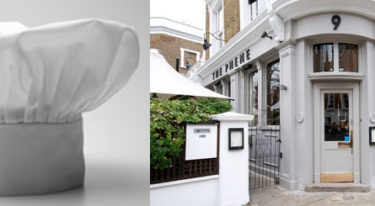 How long have you been at the restaurant?
I have been here at The Phene since the 26th July.
Which was the first restaurant you worked in?
My first restaurant in London was The Winter Garden at The Landmark hotel Marylebone.
What was the last London restaurant you went to, apart from your own?
The last place I ate was Windows at Galvins, stunning food with a stunning view.
Which London restaurant is your favourite and why?
I don't have a particular favourite, I love to explore little venues with my wife, I find them to be little diamonds with chefs who have everything to prove, so the food generally tastes and feels better.
What or who has been the biggest influence on the way you cook and why?
Georg Heis, former Head Chef of Mozzimans and The Landmark, he showed me that cooking was about passion and delicate touches, the way he caressed his food was a sight to behold.
What is your personal signature dish?
Grilled free range chicken breast with chorizo and butter bean cassoulet, hearty, delicately spiced, and heart warming.
Which other chef(s) do you most admire?
I admire any chef who wants to be the best he or she can be, my sous chef Mariusz would fall into this bracket, a pleasure to teach with a big capacity to succeed.
What's the best part of your job?
The knowledge that my customers have had a great experience, watching my team, which is a young team, grow and learn together as a unit, working with the seasons to produce menus for the moment.
And the worst?
The hours can be a pain in the bum, but if you want to succeed, you have to be there, simple.
What would your last meal be?
My last meal would have to be 14o/z dry aged York ribeye, which my butcher provides, and is amazing quality for Uk beef, with dauphinoise potaoes, tenderstem broccoli, and thyme jus, washed down with Opus 3 1985, followed by a good old fashioned treacle pud with créme anglaise.
Do you have a chef's shortcut that you can share with us?
I do know a lot of shortcuts, the best one I tend to use is when I am making a risotto, I place the shallots and garlic in the pan before I put it on the heat with some oil, by the time the pan becomes hot, the shallots have already cooked without colouring, and I can move quickly on to the next stage of adding the rice, followed by hot boiling stock, the whole process only takes 15 minutes to cook instead of 20-25 minutes.