Ian Pengelley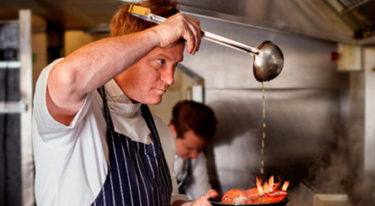 How long have you been at the restaurant?
Since opening in December 2015.
Which was the first restaurant you worked in?
A local country pub in Belfast.
What was the last London restaurant you went to, apart from your own?
Barrafina – they do beautiful Tapas.
What or who has been the biggest influence on the way you cook and why?
My mum was a great baker and she was my first influence in cooking. Nothing beats home made bread.
What is your personal signature dish?
Duck and Watermelon Salad.
Which other chef(s) do you most admire?
Gordon Ramsay and Jason Atherton.
What's the best part of your job?
Being a chef allows you to be increasingly creative, there's nothing more exciting then having a smooth service, a great atmosphere and watching people enjoy your food.
And the worst?
The worst part of my job would have to be the long working hours and the high intensity of the kitchen. Having said that, at the end of the day I feel so satisfied and the pressure makes me thrive. This is the time when new ideas begin to bloom.
What would your last meal be?
Traditional English Sausages and delicious creamy mash, spring peas and homemade onion gravy.
Do you have a chef's shortcut that you can share with us?
The Coconut Rice shortcut! Using cooked Jasmine Rice, (left overs can work too!) Warm some fresh Coconut Milk add a small teaspoon of sugar and a pinch of salt, stir thoroughly and let it soak with a lime leaf. Pour it into the rice, stir delicately then cling film it, let it soak in before serving. You'll get a delicious, freshly tasting coconut rice! Perfect for last minute dinner party meals.