Florian Favario, Executive Chef at Céleste At The Lanesborough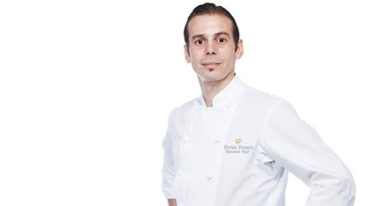 How long have you been at the restaurant?
Since March 2015.
Which was the first restaurant you worked in?
Le Clos des Sens, Annecy, France.
What was the last London restaurant you went to, apart from your own?
Coya London.
What or who has been the biggest influence on the way you cook and why?
It is the global experience which influences a way to cook and get your own identity.
What is your personal signature dish?
The Celeriac oven baked, crushed black truffle, Comté extra vieux millésime. What is interesting is to bring a simple aliment to a different level.
Which other chef(s) do you most admire?
Eric Frechon because of his working rigour and his capacity to bring a dish in a perfect taste.
What's the best part of your job?
The creativity part, all the work around the dish. From the idea, trials, doing, doing again until arriving to a perfect dish!
And the worst?
I love every single part of my job!
What would your last meal be?
Pastas just simply cooked with olive oil and Parmesan cheese.
Do you have a chef's shortcut that you can share with us?
Cook what you love to eat.