Diego Cardoso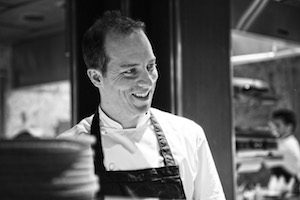 How long have you been at the restaurant?
I have been at P&F since day one. I've been involved in the design of the kitchen as well as writing the menus.
Which was the first restaurant you worked in?
My first restaurant I ever worked in was a really small place in New York, I just spend 2 days there and promptly fell in love with cooking and the dynamics of the kitchen. In London, my first job was at The Connaught Hotel.
What was the last London restaurant you went to, apart from your own?
Went to have dinner at Oklava with some friends, which was fantastic. We also recently took some of the chefs for a night out at Smokestak which was amazing!
What or who has been the biggest influence on the way you cook and why?
I worked for Angela Hartnett for 12 years and have learned a lot from her. The two chefs that I look up to the most are Daniel Humm and Jason Atherton. I love the food and feel of Daniel Humm's restaurants, they are amazing. Nomad is a great favourite of mine and Eleven Madison Park is just incredible. I admire the drive of Jason, and what he has done with his group and with his chefs. Both of them are phenomenal chefs, at the top of their game.
Which other chef's do you most admire?
See above
What is your personal signature dish?
I love BBQ meat cooked over an open flame. I've been doing this since I was a kid in Argentina and I still do so now. As soon as the good weather starts, I'll organise a BBQ with friends at home. It's the best way to spend the weekend.
What's the best part of your job?
To help chefs grow. I have a team of 40, and watching them develop and grow into talented chefs is the best part of my job. There's nothing better than to see someone succeed, and to realise you were a part of it.
And the worst?

Having to be at different places at the same time. I find it very hard, as I want to be everywhere. But you have to delegate and trust the people you have around. And give them room.
What would your last meal be?
As boring as it may seem, it would definitely be a BBQ. I'd start with a few empanadas, grilled sausages and black pudding. Then move on to some marinated pork flank and then some good juicy cuts of meat like rib on the bone, or flat iron. Add a good selection of salads and you're set. More than anything It needs to be about the people sitting around that table, my last meal needs to be a "family affair".
Do you have a chef's shortcut that you can share with us?
I love to BBQ, and for me this means lots of people and lots of food. Usually we will have some meat left over, and this makes a delicious base for a Bolognese. I chop up all the leftovers and cook them down with some onions and garlic. Then just add some wine and fresh tomatoes and cook off for a little while. You are left with a rich smoky meaty sauce. Add to a warm bowl of fresh pasta, top with fresh herbs and parmesan and you're set.