Darren Lock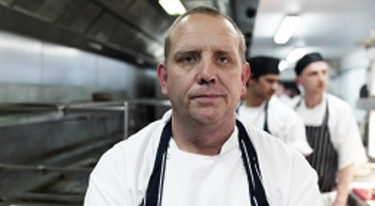 How long have you been at the restaurant?
We opened two weeks ago, but I have been with Hix for 2 months.
Which was the first restaurant you worked in?
My first job was at the Portman Inter-continental hotel, I was on a 5 year apprenticeship scheme with Bournemouth and Poole College and the Academy of Culinary Arts.
What was the last London restaurant you went to, apart from your own?
There is a fantastic little restaurant in Surbiton called the French table. The food is great, and driven by quality produce.
What or who has been the biggest influence on the way you cook and why?
Good question. I have worked in some of the best kitchens in London, with some of the best chefs throughout my career and the one thing that stands out is the 2 years I spent at le Gavroche. This is where I learnt all the classic French cooking methods which make up the foundations of most modern restaurants.
What is your personal signature dish?
I've been playing around with pan seared scallops, wrapped with smoked salmon, asparagus and truffles.
Which other chef's do you most admire?
Mark Hix, The Roux dynasty, Chris Galvin, Phillip Howard, Eric Chavot, to name a few.
What's the best part of your job?
The cooking, there's so much to learn, flavours, techniques, ingredients – the list goes on. I've been cooking for 20 years and have only touched the tip of the ice-berg.
And the worst?
The hours.
What would your last meal be?
Chicken Kiev, chips and cheesy beans with the kids.
Do you have a chef's shortcut that you can share with us?
When working with fish or ingredients with a strong smell, always wash your hands in cold water as hot water opens the pores of the skin making it harder to lose the smell.