Dale Osborne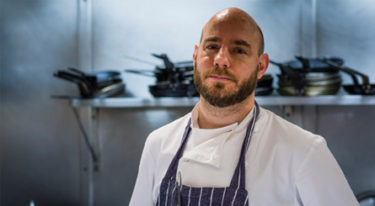 How long have you been at the restaurant?
In January 2016.
Which was the first restaurant you worked in?
I trained at The Goring Hotel.
What was the last London restaurant you went to, apart from your own?
The Clove Club.
What or who has been the biggest influence on the way you cook and why?
There's not one individual. I believe my style and knowledge has been informed through working under many great chefs, I've worked with Chris Galvin, Francesco Mazzei, Mark Hix, Heston Blumenthal, Ashley Palmer Watts and Nuno Mendes. Each have their own unique view point on cooking and techniques.
What is your personal signature dish?
I don't I have a signature dish, but at Aqua there are dishes that have evolved over the years, such as the Jersey Royal & Morel salad, and the Hake with White Asparagus & Razor Clams. I try to think of new items to keep things interesting. My dishes always start with the product and what's best in season.
Which other chef's do you most admire?
I love Peruvian food as my wife is from there and I've been lucky enough to visit a few times. I'm a big fan of Gaston Acurio not just for his food, but all he's done to promote the country through cooking.
What's the best part of your job?
At the Shard it's the view! But day to day I enjoy working with my suppliers to search for new products and ways to use them.
And the worst?
The hours are never fun, but go hand in hand with the job. However, things are changing and at Aqua there is a pretty good balance.
What would your last meal be?
A great chargrilled steak and simple green salad.
Do you have a chef's shortcut that you can share with us?
Whenever I cook at home I like to keep some good quality, homemade stock, frozen into ice cubes to use as and when, rather than go through the process every time.