Alex Tyndall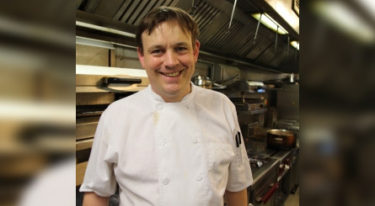 How long have you been at the restaurant?
I have been chef here at the Marco Pierre White concept for one year now.
Which was the first restaurant you worked in?
The first restaurant I worked in was a little French bistro in Essex called Randez Vous. I started and grew up there.
What was the last London restaurant you went to, apart from your own?
Duck & Waffle.
Which other chef's) do you most admire?
The most influential chef of my cooking career is Andrew Mcleish – Chef Patron at Chapter One in Kent. I worked for him for 10 years. He taught me how to be organized, work hard and cook to a Michelin star level. There are many chef I admire, the ones who work hard, give something back and motivate other people.
What is your personal signature dish?
Crispy pork, pickle cucumber, quails eggs and miso dressing.
What's the best part of your job?
The best part of my job is when I am actually cooking, not answering to emails or in meetings.
And the worst?
When you are not able to deliver to the customer and you have to compromise your standards.
What would your last meal be?
My last meal would be a whole Cheese trolley, truffle honey, chutney and crackers.
Do you have a chef's shortcut that you can share with us?
Good ingredients, fresh and in the highest season, are the best shortcut.